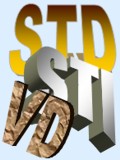 Introduction

Sexually transmitted infections (STIs), sometimes known as sexually transmitted diseases (STDs) or Genito-urinary Infections (GUI), and previously known as venereal diseases (VDs), are a set of infections that are associated with reproductive or genital areas of the body, of men and of women.

As the name suggests, they are closely associated in their incidence and spread with sexually activity: the spread from one affected person to another is a result of sexual behaviour.
Public Health

STIs have become an important area of public health concern in contemporary societies, both in developed and in developing countries.

This is despite the fact that STIs are not major causes of death or even serious illness in most cases, and also despite the fact that the infections can in most cases be relatively easily treated with anti-biotics.
Prevalence

However, there has been a rise in the prevalence of STIs in recent years. This is due primarily to changing patterns of sexual behaviour – having sex earlier, and often before marriage, and with a wider range of sexual partners. It is also associated with the greater openness in recent years in discussing matters of sexual health and relationships.